Reports-Books-Films-Recordings
Reports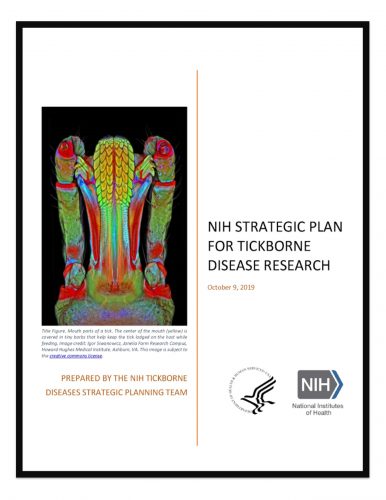 NIH Strategic Plan for Tickborne Disease Research
View NIH press release here.
---
Tick-Borne Disease Working Group 2018 Report to Congress
To view full subcommittee reports and public meetings visit the HHS-TBDWG webpage
---
Vital Signs: Trends in Reported Vectorborne Disease Cases —
United States and Territories, 2004–2016
To view CDC Vital Signs summary and fact sheet visit the CDC webpage.
---
Books
Bitten: The Secret History of Lyme Disease and Biological Weapons
Author Kris Newby is an award-winning science writer at Stanford University and the senior producer of the Lyme disease documentary UNDER OUR SKIN, which premiered at the Tribeca Film Festival and was a 2010 Oscar semifinalist. As a science writer, she was driven to understand why this disease is so misunderstood and its patients so mistreated. This quest led her to Willy Burgdorfer, the Lyme microbe's discoverer, who revealed that he had developed bug-borne bioweapons during the Cold War and believed that the Lyme epidemic was started by a military experiment gone wrong.
---
When your Child has Lyme Disease: A Parents' Survival Guide
This book by Sandra Berenbaum, LCSW and Dorothy Kupcha Leland is filled with valuable information that parents need to know about Lyme, as well as practical strategies based on the authors' personal and professional experiences.. Lyme disease can cause puzzling symptoms in children, including pain, fatigue, gastrointestinal upsets, learning disabilities, behavioral issues and psychiatric problems. The illness can be hard to diagnose, however, and Lyme-related controversies in the medical world complicate the picture. Parents seeking help for their suffering children often don't know where to turn. This book offers guidance on finding the right medical care, coping with treatment, developing effective boundaries with others who don't understand what your family is going through, advocating for your child's educational needs and managing day-to-day family life. Finalist for the Eric Hoffer Award for Excellence in Independent Publishing. So wish this resource had been available when our children were diagnosed! Further resources available at www.facebook.com/WhenYourChildHasLyme
---
Lyme: The First Epidemic of Climate Change
Author Mary Beth Pfeiffer shows ticks climbing mountains and crossing borders as temperatures rise, forests are fragmented, and species lost. Documents the human contribution to the dangerous spread of Lyme disease to dozens of countries and multitudes of people. But just as important, Pfeiffer challenges medical dogma that has dictated care for two decades and which holds, wrongly, that Lyme disease is straightforward to diagnose and treat. "Lyme" is firmly rooted in environmental and health science, relying on more than 300 peer-reviewed articles and dozens of expert interviews. Pfeiffer exposes the failure of government and medicine to prevent rapidly spreading infection, address poor diagnostic tests, and help many thousands of patients whose symptoms — body pain, crippling fatigue, and neurological, psychiatric, and memory issues — can linger long after treatment. She gives voice to patients whose illnesses have been dismissed, to doctors whose treatments have put their licenses in jeopardy, and to scientists whose studies strongly suggest the threat of ticks and Lyme disease has been underestimated and methods to treat it inadequate. "Lyme" is an impeccably researched account of an enigmatic disease that makes a powerful case for action to combat ticks, address the pain of patients, and recognize humanity's role in creating an epidemic.
---
Author Lori Dennis, provides a platform for the many voices of chronic Lyme sufferers, caregivers, and activists, along with the very few doctors and politicians all fighting for awareness, support and justice around the globe. Chronic Lyme disease is a complicated, confusing, and terrifying abyss—a black hole of human suffering, conflicting views, widespread corruption, and unrelenting medical navigation. Lyme Madness chronicles the author's and adult son's medical odyssey while capturing the current landscape of immeasurable suffering, twisted politics and medical madness that ensues worldwide.
---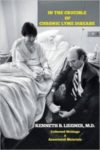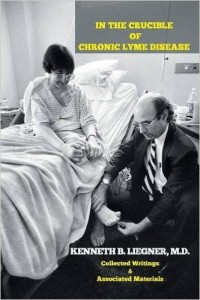 In the Crucible of Chronic Lyme Disease
This book is written by Dr. Kenneth Liegner, MD (2015). Following completion of his medical training and a one-year stint as attending physician on Howard Champion's Surgical Critical Care Service and MedStar Unit at Washington Hospital Center in the District of Columbia, Kenneth Liegner, M.D. returned to Westchester County, home of his Alma Mater, New York Medical College, to start a private practice. Unwittingly, he had 'plunked himself down' in the heart of a burgeoning epidemic of Lyme disease. His patients confronted him with puzzling syndromes that defied 'tidy' formulations of the illness and thrust him in to a Maelstrom of medical controversy. One practitioner's work over 25 years is presented here along with correspondence with many principals in the field. Documentational in nature and not written as a narrative, the materials, nonetheless, convey the intensity of the struggle to characterize the nature of Lyme disease and the desperate fight for proper diagnosis and treatment upon the outcome of which patients' very lives depended.
---
Little Bite Big Trouble: A Bird's Eye View of Lyme Disease
Author Sarah Schlichte Sanchez tells the story of a family with Lyme. Mamma Bird is so happy to finally have a family. But a mysterious illness is taking away her strength and stamina.This winsome story affirms the challenges to parenting with a chronic illness, specifically Lyme disease. It also educates children and gives them a deeper understanding of invisible disabilities. Sarah also hosts LymeVoice.com podcast, together with her husband Arron, where they explore the often complex social and emotional aspects that impact households across the country.
---
Cure Unknown: Inside the Lyme Epidemic
This book is written by Pamela Weintraub (2nd edition, 2013), a science journalist who specializes in health, biomedicine and psychology. Pam is senior editor at Discover magazine. She has excellent credentials in science and investigative journalism with 16 previous books to her credit. This is an incredible book, which not only chronicles the lives of several families stricken with Lyme disease, but also tracks the history which has led to the medical and political dilemmas that exist today.
---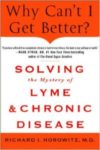 Why Can't I Get Better? Solving the Mystery of Lyme and Chronic Disease  & How Can I Get Better? An Action Plan for Treating Resistant Lyme and Chronic Disease
These books written by the internationally recognized Lyme disease expert, Dr. Richard Horowitz, MD (2013 and 2016) look at factors that can complicate Lyme disease diagnosis and treatment and offers a new way of looking at and treating chronic illness. When Dr. Richard Horowitz moved to the Hudson Valley over two decades ago to start his own medical practice, he had no idea that he was jumping into a hotbed of Lyme disease. He would soon realize that many of the chronic disease diagnoses people were receiving were also the result of Lyme-and he would discover how once-treatable infections, in the absence of timely intervention, could cause disabling conditions. In a field where the number of cases is growing exponentially around the world and answers remain elusive, Dr. Horowitz has treated over 12,000 patients and made extraordinary progress. His plan represents a crucial paradigm shift, without which the suffering will continue.
---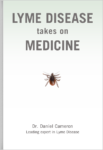 Lyme Disease Takes on Medicine
For more than thirty years, Daniel Cameron, M.D. has practiced medicine with a twist. When he began to see patients with Lyme disease, he continued to teach patients, but with his Public Health background, he also saw the need to teach a wider audience about the tick-borne disease. To that end, he started a blog he titled: All Things Lyme. In his blog, Dr. Cameron highlights important research about tick infections, Lyme treatment, testing, medications and other topics related to Lyme disease and co-infections. As the blogs accumulated, Dr. Cameron thought it a good idea to put the mini-essays into a book which would categorize them by subject matter. For those who like the feel of a page, the smell of the ink and love to scratch margin notes, there's the traditional version. In short, this book, born of the blog titled, All Things Lyme, was designed with the needs of the reader in mind. What information might you need as a patient, as a care-giver, as a physician, as an advocate? It's here; and Book Two is in the works. For more from Dr. Cameron visit www.danielcameronmd.com
---
Unlocking Lyme: Myths, Truths, and Practical Solutions for Chronic Lyme Disease
Dr. Rawls was in the middle of a successful OB/GYN career when Lyme disease interrupted his life. In his struggle to overcome it, he explored every treatment option – from conventional medicine to the full range of alternative therapies. Ultimately, he embraced modern herbal therapy as his preferred solution, but he recognizes that the path may be different for each person. Unlocking Lyme is the sum of Dr. Rawls' experience, research, and practical solutions to date. In the years since his recovery, Dr. Rawls has helped thousands of patients find their path to healing from Lyme disease. Unlocking Lyme brings together Dr. Rawls' accumulated knowledge and is the key you need to get your life back.
---
Gone in a Heartbeat: A Physician's Search for True Healing
Dr. Neil Spector describes in great detail how he was misdiagnosed and, despite being a medical insider, was often discounted by his fellow physicians.  He encourages readers to never surrender their power to a third party and advocates for educated patients who can make informed decisions collaboratively and not simply follow instructions.
---
The Widening Circle: A Lyme Disease Pioneer Tells Her Story
Polly Murray tells her story from the viewpoint of a patient who was a pioneer in the medical recognition of Lyme disease. Her personal investigation into the cause of her family's illness, eventually initiated a medical investigation that led to the 1982 discovery by Dr. Willy Burgdorfer of the dangerous bacteria that causes Lyme disease. Unfortunately, almost 40 years later, Lyme disease remains a poorly diagnosed, controversial illness.
---
The Lyme Disease Survival Guide
Written by former Coloradan, Connie Strasheim. This book is an incredible resource, offering valuable tools on how to navigate through all aspects of Lyme disease.
---
Lyme Disease Update: Science, Policy and Law
This book by Marcus A. Cohen is published by the Lyme Disease Association, written by a journalist and columnist for the Townsend Letter for Physicians & Patients, this book provides a comprehensive understanding of the scientific and political issues involved in the struggle for patient care that has been going on for two decades. NY Times bestselling author Amy Tan wrote the preface, describing her personal perspective on the difficulty getting diagnosed and appropriately treated for Lyme. The forward was written by Brian Fallon, MD, director of the Columbia Lyme and Tick-Borne Disease Research Center.
---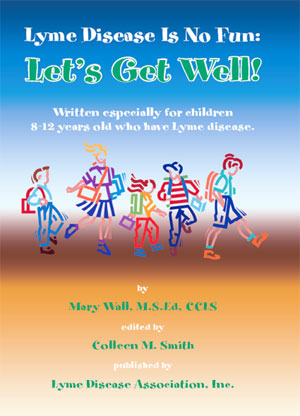 Lyme Disease is No Fun: Let's Get Well!
This book is written by Mary Wall MS Ed, CCLS, a Columbia graduate student, and edited by Colleen M. Smith, a peer-review medical journal production editor and Johns Hopkins graduate. Each of these woman has battled Lyme disease as a child. Author Amy Tan has written the back cover note. It is published by Lyme Disease Association, Inc., national leaders in Lyme research, education, prevention and patient support. It is a resource written in language that conveys the experience of chronic Lyme disease to children ages 8–12.
---
Ending Denial: The Lyme Disease Epidemic, a Canadian Public Health Disaster
A call for action from patients, doctors, researchers and politicians. edited by Helke Ferrie. This book is about the incomprehensible failure of our governments and our medical education system to deal rationally with emerging infectious disease. An incredible source of information whether you live in Canada or the US.
---
Lyme Disease: The Ecology of a Complex System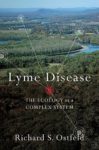 Written by Dr. Rick Otsfeld, a senior Scientist at the Cary Institute of Ecosystem Studies in Millbrook, NewYork. Dr. Otsfeld's research has resulted in over 150 scientific publications. This book demonstrates the complexities of ecology and its role in public health and human pathogens. Dr. Otsfeld identifies Lyme disease as a model for understanding many other emerging infectious human and animal diseases.
---
Recordings
Recordings from Lyme & Other Tick-Borne Diseases: 1st Rocky Mountain Forum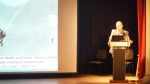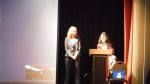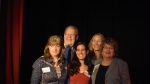 Held on May 7, 2016 at the American Mountaineering Center in Golden, Colorado, this event was sponsored by the Lyme Disease Association, Inc. (LDA) and hosted by the Colorado Tick-Borne Disease Awareness Association (COTBDAA), formerly the group Biting Back: Elevating Tick Awareness in Colorado (Monica White and Nancy Wrigley). Listen to Drs. Daniel Cameron and David Martz discuss Lyme disease diagnosis and treatment and what it's personally like to have Lyme, respectively. LDA President Pat Smith provides a nationwide overview of Lyme & TBDs, now about 20, in the US; Toni Toelle, a Federal Agency Colorado firefighter presents TBD from her perspective; and President of COTBDAA, Monica White, talks about tick-borne diseases in Colorado. Watch all segments here. 
---

In May 2017, Contagion®, the nation's leading digital and print publication that provides practitioners and specialists working in the infectious disease field with disease-specific information interviewed our National affiliate group leader, Pat Smith, President of Lyme Disease Association, Inc. to better understand current issues surrounding the diagnosis and treatment of Lyme disease. See all 9 segments at: www.contagionlive.com.
---
January 31, 2018-Highlights from the International Lyme and Associated Diseases (ILADS), 18th Annual Scientific Conference – Boston
The Global Lyme Alliance is pleased to present Highlights from ILADS 18th Annual Scientific Conference. Our expert panel of leading physicians will provide their insights and a summary of key data and research presented at this conference. Panelists include Dr. Kenneth Liegner, Dr. Samuel Shor, Dr. Thomas Moorcroft, and Dr. Leo J Shea III. CureTalks is an online Talk featuring a leading expert in conversation with a panel and the audience.  To listen to the recorded session visit www.curetalks.com.
---
LymeVoice.com is a podcast founded by Sarah Schlichte Sanchez and husband Aaron Sanchez in 2014. They explore the often complex social and emotional aspects that impact households across the country. Authors, MD's, patients, and other professionals join them on air.
---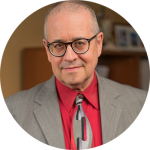 Lyme Disease Science Conversations with Dr. Daniel Cameron
The only place on the web where you can directly discuss Lyme disease with a leading Lyme expert. Learn about everything from diagnostic challenges to the emergence of new tick-borne diseases to Lyme disease treatment options with Lyme disease expert, Dr. Daniel Cameron.  www.danielcameronmd.com
---
Films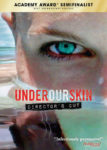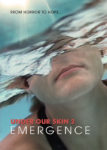 "Under our Skin" and "Under Our Skin 2: Emergence"
 "Under Our Skin" is an award winning documentary film released in 2008, "Under Our Skin 2: Emergence" is a sequel released in 2014. Both films chronicle the lives of chronic Lyme patients through their journey to recovery. In addition, it tells the story of the politics of Lyme, through the eyes of the very talented team of filmmakers at Open Eye Pictures, who left no stone unturned to uncover the truth. The first film can be viewed online at http://topdocumentaryfilms.com/under-our-skin/, the second film may be purchased at www.underourskin.com.
---
"LymeLight"
This is a Lyme Disease awareness film that serves as an inspirational story for those who have fought to overcome chronic illness and physical setbacks. It delivers a powerful message of the importance of living a healthy, active lifestyle on a daily basis. Angeli VanLaanen is one of the top female freeskiers in the world, as well as an Olympic athlete with expertise in all areas of her sport.  LymeLight is a 30 minute documentary film based on Angeli VanLaanen's battle with Lyme Disease. Angeli, started showing Lyme symptoms at the tender age of 10. After developing a chronic sinus infection, fainting spells, dyslexia and fatigue, Angeli faced over a decade of misdiagnoses.
LymeLight – The Story Of Professional Freeskier Angeli VanLaanen Living With Lyme Disease from NEU PRODUCTIONS on Vimeo.
---
"Hidden in the Leaves"
Directed by award-winning filmmaker Mary Healey Jamiel, "Hidden in the Leaves" is the story of University of Rhode Island entomologist Thomas Mather and his team's efforts to help people see the risks for serious tick-transmitted disease lurking in an increasing number of rural, suburban and semi-urban landscapes in the eastern United States. Free viewing of additional parts or purchase at University of Rhode Island TickEncounter Resource Center