May is National Lyme & Tick-Borne Disease Awareness Month!
This national proclamation is an opportunity to elevate awareness of Lyme and the growing number of other tick-borne diseases that affect a growing number of people in the US each year. Recent data from the centers for Disease control and prevention show tick-borne diseases are on the rise.  In 2017, state and local health departments reported a record number of cases of tick-borne disease to CDC.  Cases of Lyme disease, anaplasmosis, ehrlichiosis, spotted fever rickettsiosis (including Rocky Mountain spotted fever), babesiosis, tularemia, and Powassan virus disease all increased—from 48,610 cases in 2016 to 59,349 cases in 2017. These 2017 data capture only a fraction of the number of people with tick-borne illnesses. Under-reporting of all tick-borne diseases is common, so the number of people actually infected is much higher. Lyme disease case estimates for 2017 reached 427,430 (42,743 reported cases). Prevention is key to staying healthy!
Awareness and education is critical in preventing these diseases!
EVENTS
Connecting~Learning~Healing FREE Virtual Event!
Presented by COTBDAA and Colorado Lyme & TBD Support Group
Saturday, May 16 & Sunday, May 17, 2020
1:30-3:30
Two Colorado-based healthcare practitioners will generously provide support and insight to two topics that are close to many patient's minds – Cynthia James will present on emotional support and Dr. Dan Kinderlehrer will talk the latest in disulfiram treatment.
Click Here for Event Details and Registration!
PROCLAMATION
Colorado Governor's proclamation
Proclamations declaring May as Lyme and TBD Awareness Month have been signed by former Governor John Hickenlooper in both 2017 & 2018.  And by Governor Jared Polis in 2019 and 2020!
View 2020 Proclamation here!
View past years proclamations here!
ACTION
How can you get involved?
Join us in supporting our growing community of people affected by Lyme and other TBDs in Colorado, their family members, caregivers and friends, as well as those that have not yet been impacted by these diseases.
Elevate awareness throughout the Month of May!

 
Honor the Faces of Lyme & Tick-Borne Disease: View, post & share "Faces of Lyme & TBD in Colorado" #FACESOFLYMEINCO throughout the month of May here!
Prevention: View, post and share COTBDAA resources for preventing tick bites here!
Make a statement: Wear green throughout the month of May (a green face mask?); tie a green ribbon around a tree, a mailbox, a light post, car bumper; write a letter to your representatives or local newspaper.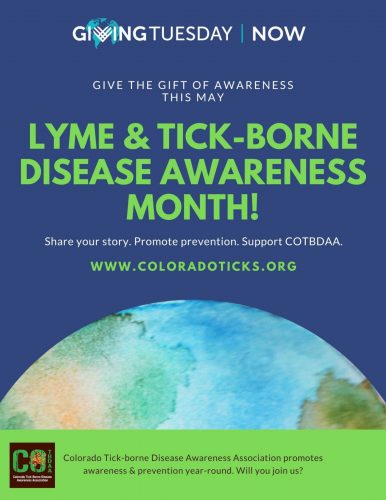 #GivingTuesdayNow: is a global day of giving and unity that will take place on May 5, 2020 as an emergency response to the unprecedented need caused by COVID-19.
The COVID-19 pandemic has created increased challenges for everyone this year. With warming weather, more people are spending more time outdoors and unfortunately, ticks are not social distancing.
Many initial tick-borne disease symptoms are flu-like and may not be readily recognized, especially in light of similar symptoms found with COVID-19 infection.  Access to medical care providers experienced with diagnosing Lyme and other tick-borne diseases has always been challenging, and now more than ever in many communities. With an estimated 300,000 new cases of Lyme alone expected this year, now is the time to increase awareness and practice prevention!
On Tuesday, May 5th, Give the Gift of Awareness!
Direct others to COTBDAA and to our Community Partners for valuable resources to help educate friends, family and communities throughout Colorado and beyond on the importance of tick-bite prevention and awareness of Lyme & other tick-borne diseases, no matter where a person lives, works, recreates and travels.
On Tuesday May 5th, make a small donation in support of COTBDAA! Donate here!
Additional Resources
Community Partners
COTBDAA Community Partners provide a wealth of information, resources and services to help keep you informed, healthy and protected. Make sure to visit them here!
Lyme Disease Awareness Month Lunch & Learn Series
Every Friday during Lyme Disease Awareness Month, the Vector-Borne Disease Regional Centers of Excellence will give interactive presentations on their work for tickborne diseases such as; tick surveillance, how to collect ticks, tick bite prevention, tickborne disease research, and other activities. Register in advance for these webinars here. https://cdc.zoomgov.com/webinar/register/WN_qdg9DzCHSKG6UI–sgO_bQ
Schedule:
May 1 – "Ticks Don't Social Distance", the Southeastern Center of Excellence in Vector-Borne Diseases
May 8 – "Where Ticks Live & Roam", the Northeast Regional Center for Excellence in Vector-Borne Diseases
May 15 – "Where the Wild Ticks Are", the Midwest Center of Excellence for Vector-Borne Disease
May 22 – "The Travelling Tick: Studying Ticks Across Borders", the Western Gulf Center of Excellence for Vector-Borne Diseases
May 29 – "California Dreamin' Ticks", the Pacific Southwest Center of Excellence in Vector-Borne Diseases
View other 2020 events here!