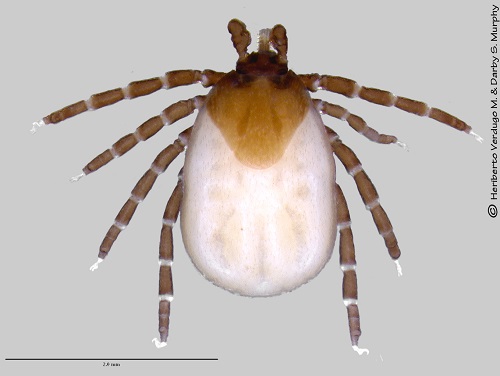 Ixodes texanus
Distribution
Distribution in the USA includes AL, AR, AZ, CA, CO, CT, DE, FL GA, IA, ID, IL, IN, KS, LA, MD, MI, MO, MT, NC, NM, NY, OH, OK, OR, SC, TN, TX, UT, VA, WA, WI, and WV; in Canada, British Columbia, Quebec, and Ontario. It is also thought to occur in Mexico, specifically the states of Guerrero and Nuevo Leon.
Hosts
Hosts include weasels, badgers, skunks, and other mustelid carnivores in western states of the USA, and primarily raccoons in the East. Occasional hosts include Virginia opossums,rodents, lagomorphs; domestic dogs and humans.
Vector Status
The agents of raccoon babesiosis, ehrlichiosis  and Rocky Mountain spotted fever have been detected from Ixodes texanus.
Resources
H Joel Hutcheson, James W Mertins, Boris C Kondratieff, Monica M White, Ticks and Tick-Borne Diseases of Colorado, Including New State Records for Argas radiatus (Ixodida: Argasidae) and Ixodes brunneus (Ixodida: Ixodidae), Journal of Medical Entomology, tjaa232, https://doi.org/10.1093/jme/tjaa232